Project 40 luxery villa 's at Costa Del Silencio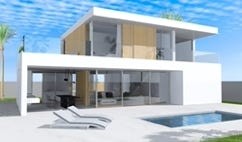 Prices to be announced soon! - New construction - Sea view
In addition to "Apartamentos Minerva" "Villas Minerva" will also be offered in the future on the Costa del Silencio. A selection of 40 minimalist homes of about 160m2 on a private plot of 500m2 with or without a private pool or Jacuzzi.
The options will consist of four different types to choose from and adapt the finishes to your wishes.
Sign up now to receive information as soon as we have news.